Ok, I've got a confession to make. I have not been wearing a lot of clothes lately. I mean, I'm wearing fabric on my body, but none of it resembles a well pulled together outfit that's for certain. Instead, I've been staying inside trying to stay warm by laying in the slices of sunlight drenching my sofa with my cat and dog. So how does one run her little plus size fashion blog when she's just wearing jamjams and laying around her house? Make a plus size pajama guide obviously! These are the beautiful cozy sets that I've been swooning over lately. Happy winter, stay warm babes!!
---
Because you know what a nightshirt says? I'm not leaving the house! Not even going outside to check the mail! I may not be wearing underwear, and it doesn't matter! I am cozy!!!!
---
I love this robe because it's not too heavy and I can comfortably wear it around the house without getting sweaty or uncomfortable. Robes I can stay in all day? Yes please! psssst – don't pay full price for this, Land's End has a huge sale every other week!
---
I could die over this onesie. So soft, so cozy. Simplybe sells more than one type of onesie and several of them go up to size 32! Perfect for chilly winter days!
---
When I was a kid I thought that long johns were the worst thing to ever happen. They screamed "my mom is controlling what I'm wearing!!!". These days, I love thinking about my momma buying me something to keep me nice and toasty. Thermal jammies forever.
---
I don't know how much more info you need than that title. They're shorts with hamburgers on them. They're perfect!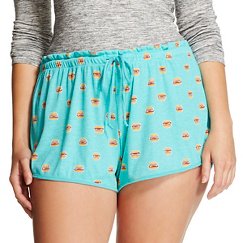 ---
Are you just dying to get cozy now? I AM!